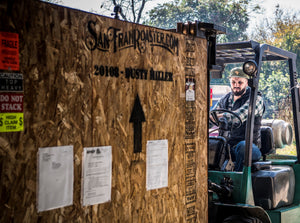 The SF-25 Landed
I've often regretted my lack of discipline when it comes to writing. I enjoy writing, and know that many things slip the mind and it is wonderful to be able to look back and get a glimpse to what I was feeling at a time in the past. As cliche as it sounds, writing is therapeutic. I enjoy telling stories.
I made a personal goal at the beginning of this coffee roasting dream, and that was to document the entire process. Not only do I want to share the adventure, but I want to be able to look back and learn from the journey. As a small business owner, you pull influence from those you know and trust. As a CPA with a passion for taking crafts and making them deceivingly efficient, I have trouble finding content on the internet which highlights (and shares) stories and experiences of competent people taking small businesses to the next level. That being said, no matter whether you're selling brisket or coffee beans, the principals are the same.
12 months ago, when I was just beginning to map out my coffee dreams, Chazz came to Miller's Smokehouse looking for a job right as we were looking to get our first espresso machine (La Marzocco), and begin our coffee journey. Some might call it fate, but Chazz had over ten years of coffee experience (mainly barista), and an unshakable desire to make a career out of creating beautiful and great tasting coffee beverages. Not only does Chazz treasure good coffee, but it is important to note that I have had one year to observe, and he is a natural born customer service champ, and all around good guy. 
Fast forward a year, and not only did Chazz get to select each piece of equipment for the coffee bar at Miller's Smokehouse, but he has been right along side me though selecting the roaster(s) (San Franciscan SF-1 and SF-25), traveling to North Carolina to learn how to roast (Bald Guy Brew), converting an old deer processing warehouse into a coffee roasting facility, and now pumping out our first batches of coffee. 
It was a fun experience to receive the SF-25 and get her all hooked up (videos coming soon). I wake up each day excited for that day's coffee, and excited to learn more about the coffee industry. I am thankful for this opportunity, and all the people it has and will bring into my life. I need to spend more time taking in the good moments, and just being thankful.
I'll cut this one off, because I know people don't like to read wordy posts.
More to come.
-Founder, Dusty Miller
---