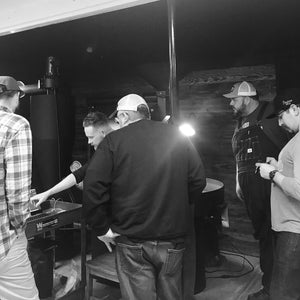 Roasting with Dad
Sometimes you don't understand the purpose of your day until it's just about over. Today started with meetings at the restaurant, stress over the day-to-day issues that come with a restaurant, book work, cleaning out an old house, more meetings, roasting coffee during another meeting, taking a break to eat with my wife and kids, and now back to an empty restaurant where I sit trying to work through an issue with the online store among the list of other items I did not finish today.
After eating dinner with the family tonight, I plopped myself down on the couch next to Katy to check a few messages. One was from my sister, Samantha, who has been helping document the journey which is 2019. She sent a few pics and videos from today, and one really meant a lot to me. It's of myself, Chazz, Amadeo, Justin, and my dad. We had just got done with a meeting about our plans for the future of Penelope Coffee Company, and I wanted everyone to be involved with today's roast as I felt it would bring us back to what's important, and focus everyone's attention on the coffee. Right there in the center of the picture is my dad. My dad doesn't know much about coffee, but he's knows a ton about hard work, much of which has taken place over the past 30 years right there in the warehouse where our shiny new roaster sits.
See, my dad spent about two decades operating a masonry business with his dad, and later, more than a decade operating a deer processing plant. The older I get, and the more kids my wife pops out, the more I realize the value of working with friends and family. As a dad, working with a son is both a great liability to the relationship, and a great blessing if all goes well. When my dad was my age, he was using this warehouse to store bricks, pipe, and stoves, and it tickles me pink to see him getting excited about something new. He's right there, squeezing himself into the center of the group to ask Chazz questions about the roast log. He was listening for first crack, smelling the beans, and crunching down on freshly roasted coffee like an O.G. of roasting.
After spending all day focused on the serious business end of what we do, a simple picture reminded me of the most important thing that happened today. I got to do something I love, with people I love, while being completely supported by my dad. Think about that; how many people have a dad that is not only proud, but will come to work and squeeze right in next to them? Getting to do something you love is rare, and real friends and family are the biggest assets we are given.
---