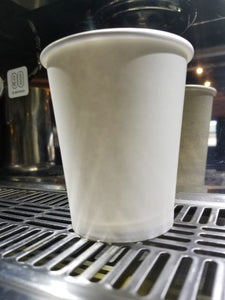 Sharing a Cup
Business never sleeps, never allows you to fully disconnect to spend time with family, and the numbers never stop moving (whether positive or negative). The past couple of years have brought many new adventures, and coffee roasting, much like any other business, requires new outlays of cash and exposure to a whole new list of relationships. As with the barbecue restaurant (www.millerssmokehouse.com) many times your greatest allies and friends are technically your competitors.
I would like to take this time to give a shout-out to our new friend, James, the founder of Longbow Coffee Roasters (www.longbowroasters.com) in Salado. We had a record week of coffee sales at Miller's Smokehouse this past week, leaving us completely out of our 8oz cups before our shipment was set to arrive. I shot James a message on Instagram, and he took the time to drive home, find the cups (that he wasn't sure he even had), and was even prepared to drive them to Belton on a busy Saturday to deliver them. James is a coffee roaster, and he knows that we will experience market overlap in the future. What I respect about James, is that he is the type of person who understands that doing good is always good. By treating your competition as a friend, they become your friend. When it comes to selecting friends on a personal level, I prefer people who choose to play offense in business, avoiding the negative outlook that comes with thinking everyone is out to get you.
James, life is short, and sharing a cup (whether full of coffee or not), is the type of small gesture that transcends the daily struggle of building a business. In fact, I believe it is the type of gesture which builds the culture of a great business. Here's to you, your staff, and to looking forward to being able to share a cup with you someday when you need it.
-Dusty Miller, Founder
---